Pastor's Page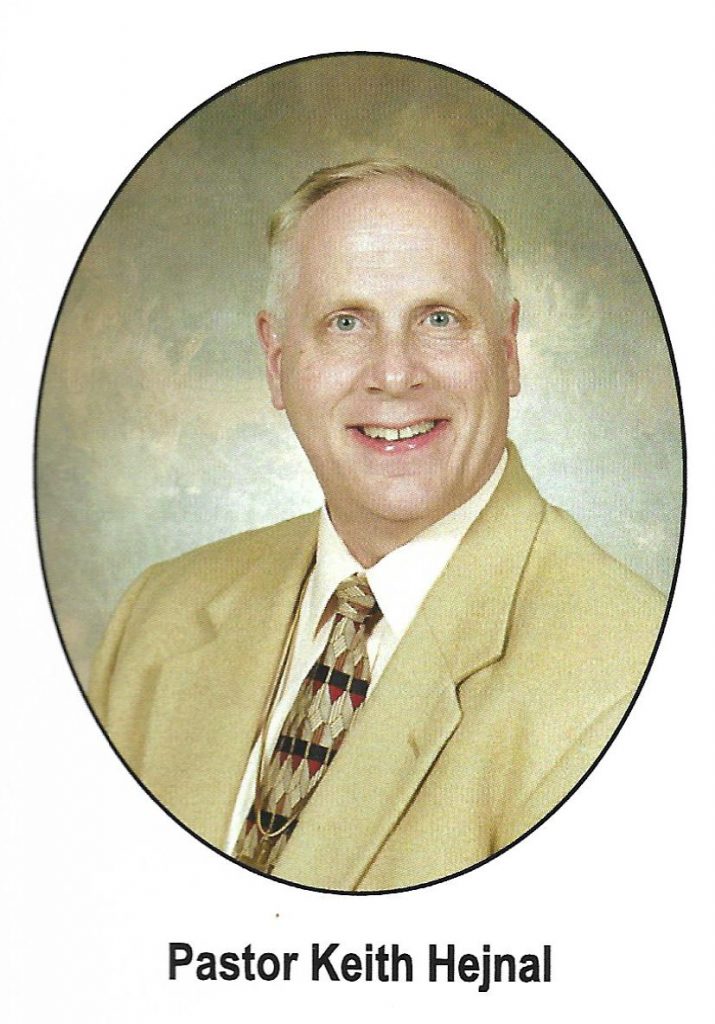 The Rules of Driving and Getting Serious
About the Habits of Life
There are not many advantages in growing older, except that we have memory and experience going for us.  I was thinking some about how my driving has changed over the years. One, it is harder for me to see at night. Two, I have been assured by folk I respect that I drive a bit too fast. Three, safety needs to be judged by obeying all the rules of the road. Four, yellow lights mean to slow down & stop if safe.
Five, use of the directional is not optional. Six, no rolling thru stop signs no matter how light the traffic seems.  Seven,  courtesy is never out of style.
It is interesting to have lived long enough to have seen so many changes: cars with no seat belts, then seat belts as options, then mandatory seat belts installation (remember when we all gave credence to the idea that you wouldn't want to be wearing that seat belt because if the car flipped in the water or caught fire you might never get out!.)  Then came the phase we went through of having our seat belt warning lights disconnected. Finally, came the mandatory seat belt laws and restraints for all children. These seat belts could be inconvenient, mess up nice clothes, and limit our personal freedom, not to mention the fact that each of us ought to have the right to choose what is good or bad for us personally (I add this for all our members with Libertarian leanings.)
But we know that what might be inconvenient, and sometimes a hassle, and even sometimes a limitation of our freedoms and personal choice might be good for us in the long run and healthier for a society as a whole.  Most of us have come to buckle our belts without even thinking about it.  And our children learned that it was just a rule to get into their car-seats before we got started. The greatest majority of folks  now agree that seat belts are an unqualified good which adds safety and value to our world.
As Summer draws to a close let us think soberly and seriously about those habits of life we want to cultivate because they are good for us as a person, as a child of God, and a worshiping community, including but not limited to: regular worship attendance, contributing the mission efforts of the church, caring for a community need, participating in worshipful singing, regular scripture study, and making time for ardent and purposeful prayer.  
Let us prepare for the fall by finishing the Summer with a  song in our hearts and gratitude to God upon our lips.
Editor's Note: Many years ago Mom was bringing me home from Mt. Z Confirmation class. It had begun to snow and was getting slick as we approached Reimer Rd. Mom suggested I put on my seat belt. As she drove west, up the hill, just before Pine Valley Golf Course, the car went into a skid and we crashed into the embankment. I can still remember the tug of the seat belt as it kept me from going through the windshield. I have always worn a seat belt when in a car since that night.

(July 2022)

I Like My Garden. I Like This God.
I was late, but I got it done.  I finally got my garden in before July started!   I like my garden.  I don't need it.  I know it would be a good deal less effort to go the market and get what I want.  When it is 90 degrees out, and dry as a bone, the good earth feels more like concrete, I think maybe I should call it quits.  But one thing I do love — everything about my garden makes me think about the future!   From the seeds in the ground, to the late summer tomatoes and how they will taste on my BLT sandwich.  Even when we come to the end in the fall and it gets all pulled up it prepares me for Thanksgiving and allows me in the snow and drizzle of winter to dream of next year.  I am reminded of a church member, years ago, who would always say, "God gave me 2 eyes and put them both in the front of my head because the only way to go is forward."
We live in a large and fast world that makes most life seems puny by comparison.  The unstoppable processes take over and our voices crying out for small considerations, seem to be drowned out.  I like these defiant voices which are always filled with hope that there is more  future, more for God to reveal, more to Hope for.  They have the spark I read about in the book of Genesis.  They remind me of the woman who clambers up to Jesus to touch his garment for healing.  Or the woman in the  Bible who would not quit bugging the judge until she gets justice.  I like the fellow who won't stop crying out to Jesus for healing—even if the whole world is telling him to be quiet.  If we are to believe that we are made in the image of God, I like to think of God as having that spark of defiance.  In the face of chaos God calls for order.  In the presence of empty God makes full.  In the presence of overwhelming sin, God redeems.  In the presence of death God calls forth life.  I like this God.  
My favorite part of the Apostle's Creed is the part where we say, "…He descended into hell, the third day he rose again from the dead, and ascended into heaven….."   Defiance in the face of all obstacles.   No wonder we worship a Risen Lord—there is always more up ahead.

(June 2022)
Talking in a Quiet Voice
Just about every day while we take our doggies on the evening walk we meet folks doing the same.  It is natural for critters to seek out friendship with like creatures, so I often end up talking to the dogs & their owners.  I almost always compliment the owner that their dog is pretty, even if not so well behaved.  I have noted that a calm voice seems to likewise calm the doggie.
When I was a boy I was afraid of dogs.  I was attacked and bitten by a dog and had to go to the hospital in Cleveland for treatment.  Fear of dogs started to rule my life.  Fears are funny like that. They won't go away with reason, time, or better information.   Fears are nothing more than bad habits run amok.  And the only way to get rid of a bad habit is to kick it until it is gone. 
Our world is a world run by fear.  Modern info tech and the modern news cycle:  where weather is made to seem dangerous, strangers are either toting a gun or wishing one ill, and politics and disease seem to cause only arguments, spread our fears.  Our modern world seems to stoke our fears, anxieties, and rub our nerves raw.  Fear is the great factor in generating our nation's "dis-ease".  Modern ways of communication and marketing know that they must make people feel something, and fear is as effective emotion as exists.  Jesus knew this.  Jesus' most frequent command in the Gospels is, "Fear Not!"  
The Gospel of John begins chapter 14 with the words, 'Let not your hearts be troubled.' The Gospel of Matthew ends with the words, 'Lo I am with you always.'  And Paul reminds us in the book of Romans, 'If God is for us who can be against us….' (Romans 8.31)
In these times we need to trust more that this consistent word from God is both reliable and true, and pattern our lives in accord with the word of God.  Steadfast Love, mercy for all, forgiveness and grace abounds; these are God's quiet voice to our hearts.

(May 2022)
My Morning Walk With Doggie
The one thing I do like about the time change is that it is now daylight when the doggies and I go for our morning walk.  I have spent most of the dark winter and gray spring trying to make myself visible to drivers.  One of the kids bought me a hat the flashes a bright light, I usually wear florescent or reflective colors, just to alert sleepy drivers that we are around.
I suppose in many ways I have become more cautious with age.  I keep telling folks that is because, as I grow older,  I know all the bad things that can happen to person.  I have one friend who has been in a wheelchair for almost 40  years since being hit on his bike by a hit and run driver.  I'm aware of several walkers who have been badly injured or hospitalized because of brushes with cars.  I am always astounded , especially by  young folks who walk wearing dark colored clothing or hoodies, or with their backs to traffic, or who have earphone plugged in making them unable to hear oncoming traffic
I keep thinking "If only these young people could know!"  But they are young people. They are bold, filled with adventure, and not concerned about risk taking. This is exactly the way youth have always been.  In reading the stories of the young church following Easter I see exactly the same kinds of behaviors.  The disciples are bold, fearless, out for adventure, and unconcerned for the risks. The disciples thunder against the temple officials, "We must obey God and not man!" (Acts 5.29).  The apostles tell the story of the risen Christ and display, at every opportunity , the transformed lives they are called to live.  In one of our recent books I read the phrase, '… we must not self-deter…' (the author means when we talk ourselves out of trying new things, taking risks, or hold back because of problems, difficulties, or antagonisms.)
My suspicious is that faith is supposed to call forth from us  an adventuresome spirit.  The apostle Paul tells his young friend Timothy, 'For this reason I remind you to fan into flame the gift of God, which is in you through the laying on of my hands.  For God did not give us a spirit of timidity, but a spirit of power, of love and of self-discipline.' (2 Tim. 1:6-7)
Let us not quit too quickly , our  future is always in God's hands.


(April 2022)
April and Easter
The word "holy" means to SET APART, or to LAY ASIDE and dedicate to God.  In the Bible we often speak of God's people as a holy people, or a holy nation. But what is it that sets us apart for God?  In what ways ought the church be set aside, or holy, for God?  I can think of 4 perhaps you might add others!
We should be committed to building each other up. The world is much too effective at putting people down, finding fault, and assessing blame. The church ought to be different.  As  my mother always said, "If you can't find something good to say, don't say anything at all."
The church ought to be a place where the value of each person is recognized. God gave us life, Christ saved us, the Holy Spirit guides and encourages. People are unique.  We come into the world completely helpless and dependent upon other people.  We learn to walk and talk and do everything else by  seeing other do it first.   People need people.
The ONLY way to stay holy is to stay focused on what is important. Every morning our hopes and  dreams come rushing at us like a wild mob.   We need to hear that quiet voice of God speaking to our hearts to put direction to our activities and priorities.
We limit our freedoms so as not to give in to every impulse and thought. We discipline our lives, our bodies, and our minds to conform to the image of Christ.
In this April Easter season, join the journey with us.  Rediscover the life of faith.  Open your hearts in prayer.  Worship with others.  Walk and grow in faith.  From Good Friday (7 p.m.) to Easter Sunday (10 a.m.); the church takes this 3 day walk every year  because it was believed that one couldn't understand the JOY of Easter until one had experience the depth of the sadness  and the great sacrifice of Good Friday.  Let us do this together!
Yours in Christ,


(March 2022)
When Lent gets difficult.
Sometimes about midway in the Lenten Season, when my prayer life drags, when my good intentions sag, and when busyness begins to crowd out devotion, prayer, sometimes even hope,  I just want to cry out to God for more faith!
 The boy's father said to Jesus, "… But if you can do anything, take pity on us and help us." "If you can?" said Jesus. "Everything is possible for him who believes." Immediately the boy's father exclaimed, "I do believe; help me overcome my unbelief!" (Mark 9:22-24)
Is it possible to be filled with faith and doubt at the same time? Yes!
Here's some Good News: You can have faith that God wants you to do something and still be scared to death! Courage is not the absence of fear. Courage is going ahead and doing what you're called to do in spite of your fear.
We must start all our activities where we can, that includes our walk in faith.  We must begin with the faith we already have; it may be just a little, but we have to start there. A great example of this is the story of the man who brought his sick son to Jesus in Mark 9. Jesus looked at the man and said, "I can heal your son. If you will believe, I will heal him."
The father then makes a classic statement: "Lord, I do believe. Help me overcome my unbelief."
Have you ever felt like that? "Lord, I have some faith. But I also have some doubts. I want to believe, but . . . " This man was filled with faith and doubt, yet despite his honest doubts, he went ahead and asked Jesus for a miracle. And he got his miracle – Jesus healed his son.
No matter how weak or how frail you think your faith is, it is enough.
Everybody has faith. You had faith this morning when you drove to work or school — faith that the people driving in the other lane wouldn't come over into yours. You had faith when you sat down to read this — faith that your chair wouldn't collapse.
Everybody has faith; the difference is what you put your faith in.
Take your little faith; "Lord, I believe! Help me with my unbelief!" And you put it in our big God, and then God will show you huge results.
Yours in Christ,

(Feb 2022)
Love 2022
January has been very cold and brutally  snowy.  I keep hearing people say, "It's just one of those winters." Trying to think "warm thoughts" I was remembering years ago someone saying that half of Hawaiian homes have no central heating.  It is unnecessary in a place where it is mostly 80 degrees year round.  Hawaii is a series of islands, separated from each other by a few hundred miles.  One can only travel between the islands by plane or boat. These islands seem separate and distant but that is an illusion.  Under the water each is the top of a large mountain chain  which rise up from the sea floor. The islands that we can see are only the smallest part. The big island of Hawaii is the top of the largest mountain on earth, almost 2/3 of the island is under the water, hidden from view in the dark of the oceans depths. 
I was thinking about how our Christian faith may be similar.  We tend to think of ourselves as individuals, personalities, and characters of which no two are alike.  Sometimes we feel separated from each other, and sometimes, especially these past two years , when we have suffered from the virus , we feel separated from  each other and sometimes we feel even separated from God. We know this is an illusion.  Most of our spiritual life and health goes on in places we cannot see:   in prayer, in devotion, in fellowship, in caring. I like to remind myself in these difficult days that our lives are only the smallest visible part of the passing parade of saints held up by all that has gone before and all that will come after us.     
We are connected by our roots and none of us remains alone.  So Christ brought us this message to share and he called  this binding together with the name LOVE. 2022.  It feels funny to write it, it feels funny to see it in print, and yet this is another year of opportunity to see where this source of all love, which binds us together, will lead us now.
Hope you are up for more of the  journey,